https://www.cakewrecks.com/home/2020/1/5/sunday-sweets-deco-licious
We're officially in the 20s again, my friends, so of COURSE we need some 1920's Art Deco Sweets to celebrate!
(By Style Sweet CA)
Check out the sweet style from Style Sweet! That's some old school glam, right there.
Or for something a little more modern: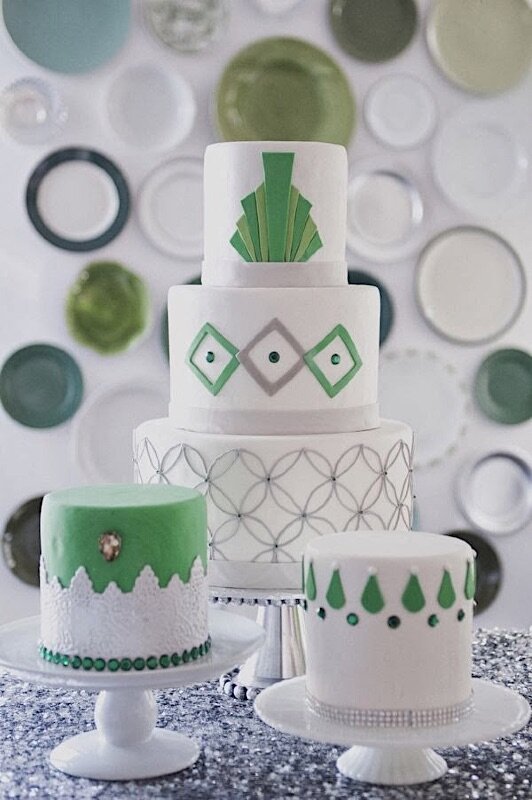 (By Luxury Creations, featured here)
I'm digging that green.
Of course, when you need drama, this is the way to go:
(By Artisan Cake Company)
You just can't beat handpainted gold leaf for maximum "wow" factor.
Or perhaps you prefer silver?
(By Amelie's Kitchen)
This would be the perfect dainty little wedding cake. And the bride should wear drop earrings that match those side pieces, and a tiara that matches the top tier - am I right?
Of course most Art Deco is all about bold geometric shapes and colors. You know, like this:
(By The Cake Whisperer)
The flower and feathers soften it just enough, and really give it that modern flair. Love it.
Now here's a cake that took some jaw-dropping technical skill:
(By Donnatella)
Those plaques are all made of sugar, using royal icing in a color flow, or "run-in" technique. It's incredibly fragile, and ridiculously difficult to do. Plus all four sides have window panels in front - look closely, and you can see the gap on the inside edge. That is ridiculous, you guys. RIDICULOUS. Mad props to all the bakers out there with this kind of patience.
Next, one of my new favorite color combinations: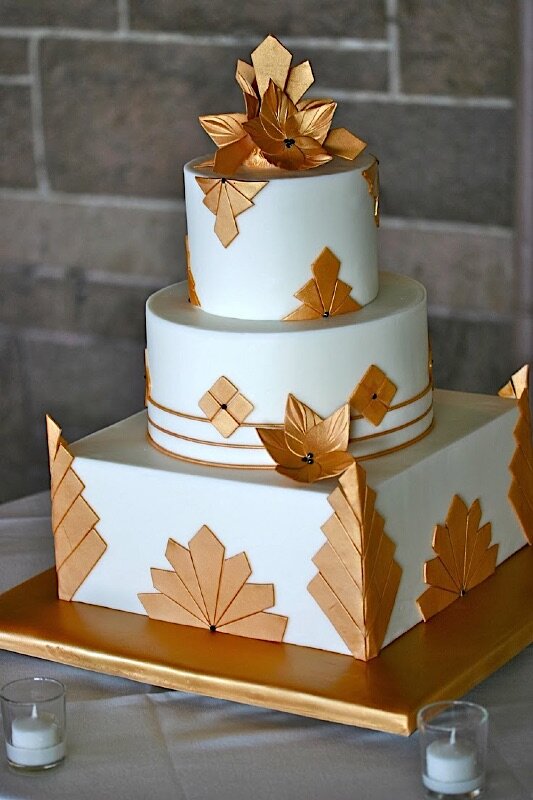 Mint and gold. Mmmm.
If you've ever been to South Beach, then you know Art Deco and pastels go hand in hand. It's also one of the most beautiful architectural styles ever. In fact, this peach cutie really reminds me of some of my favorite Art Deco buildings:
(By My Cupcakery)
And can't you just see this one all lit up with neon lights on the beach front?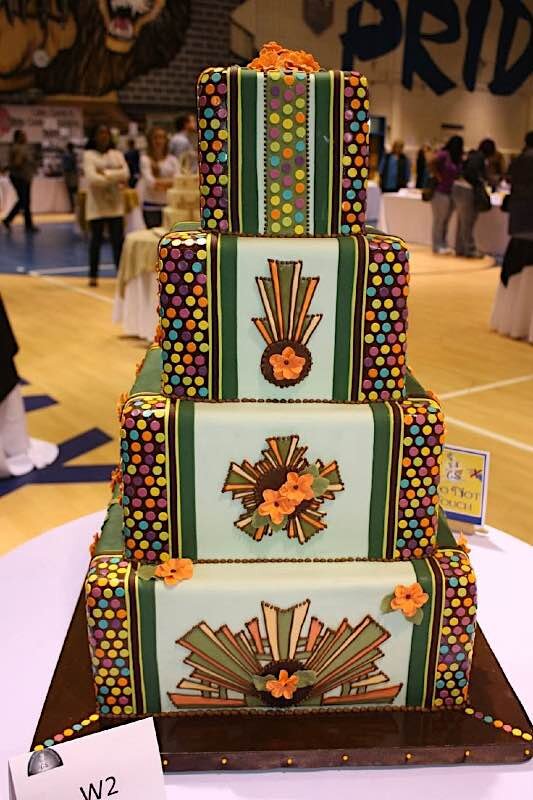 (From the 2013 Capital Area Cake Show, found here)
Completely in love with those polka dots.
Here's another one using run-in icing, this time to make accent pieces that look like chic jewelry:
(By Djalmma Reinalldo)
Ok, I want the topper as a pin, the bottom band as a bracelet, and a soft teal cardigan to wear them with. (Someone out there is getting this down, right?)
Hang on, I just found the most grin-inducing Deco cake yet: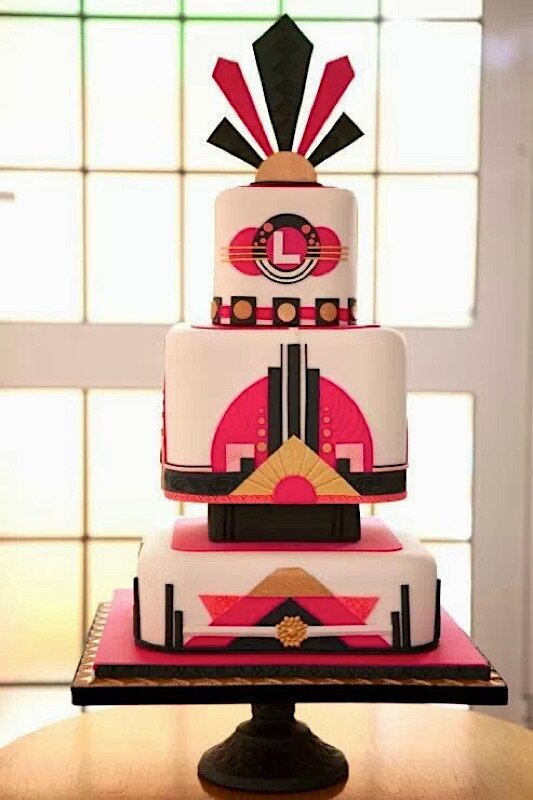 (By Lindy's Cakes)
Sha-POW! Grin city.
When it comes to sheer elegance, though, I think this is the clear winner:
(By Nom Nom Sweeties)
The fringe, the feathers, the perfect lines and subtle ombre effect... yep. I'll take it. :D
Hope these made you smile and that your Sunday is extra sweet!
****
Did I use today's post as an excuse to browse Art Deco jewelry for half an order? YES I DID. These remind me of the earring drop cake, and look how pretty:
Chandelier Deco Dangle Earrings
And don't get me started on the Art Deco rings, since that's my favorite style ever. There has been much drooling and bookmarking, ha.
*****
And from my other blog, Epbot: