https://www.cakewrecks.com/home/2019/11/25/if-you-think-about-it-a-footless-dragon-is-really-just-a-snake
I don't know what it is, but I'm pretty sure it wants to hurt me: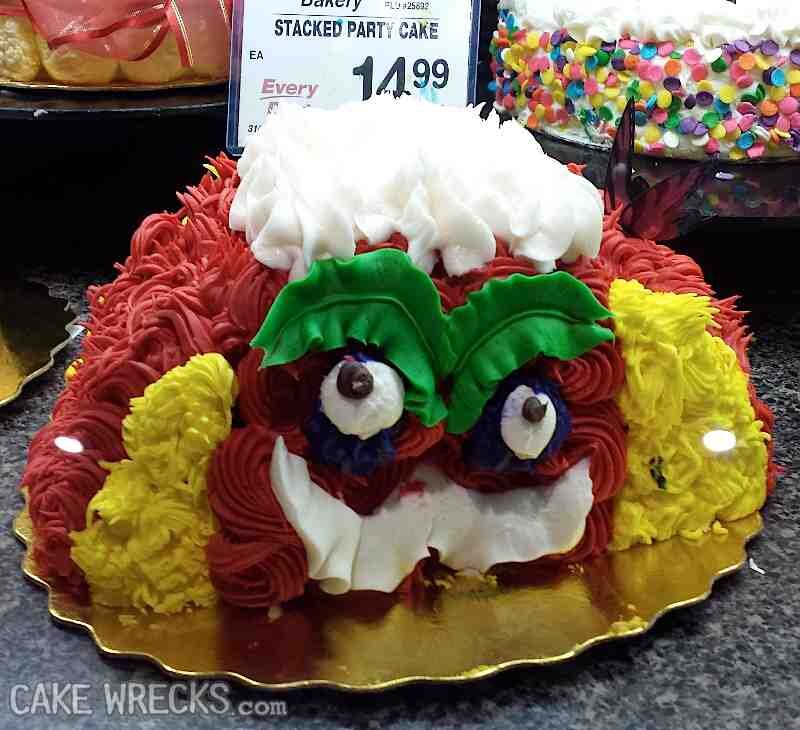 "Yes, yesssss; bring that knife... CLOSER."
Extra, Extra! Read all about it! Finally captured on film!
The elusive Pepperoni Pizza Butter-Pie!
So cheesy, am I right?
In case you were wondering if those awful Frozen cake kits are still out there:
YUP.
Believe it or not, this next photo was taken inside the bakery. See the shelf & cake behind it?
So someone bought this cake, brought it home, put custom candy letters AND a candle on it, cut into it, realized it was chocolate and not yellow like the label says, and then returned the cake.
WHICH THE BAKERY THEN PUT BACK ON THE SHELF FOR SALE. (At full price.)
So, uh... used sperm balloon cake, anyone?
I've seen a bunch of these dragon cupcake cakes (patooie!) now:
...and trust me, they NEVER look this nice in real life.
This one, however, wins the Brass Ring of "Look, Ma! NO HANDS!":
'Cuz I think he made it with his feet.
Thanks to Megan W., Norma E., Caite L., John B., & Leanne W. for dragon that in.
*****
I don't know where this has been my whole life, but behold:
A "Dragons Love Tacos" book and toy set! The plush dragon it comes with is holding a giant taco. Boom. I don't know about you, but that's all the sales pitch I need.
*****
And from my other blog, Epbot: