https://www.cakewrecks.com/home/2020/10/25/sunday-sweets-sinks-its-incisors-into-some-skulls
I'm back with more Halloween goodies, spoops and ghouls!
I didn't have anything too specific in mind for this week's theme, so I ended up with a boo-tiful mix of everything from Gothic Glam:
(Cake Effect Buffalo, New York)
... to bright pastel eye candy.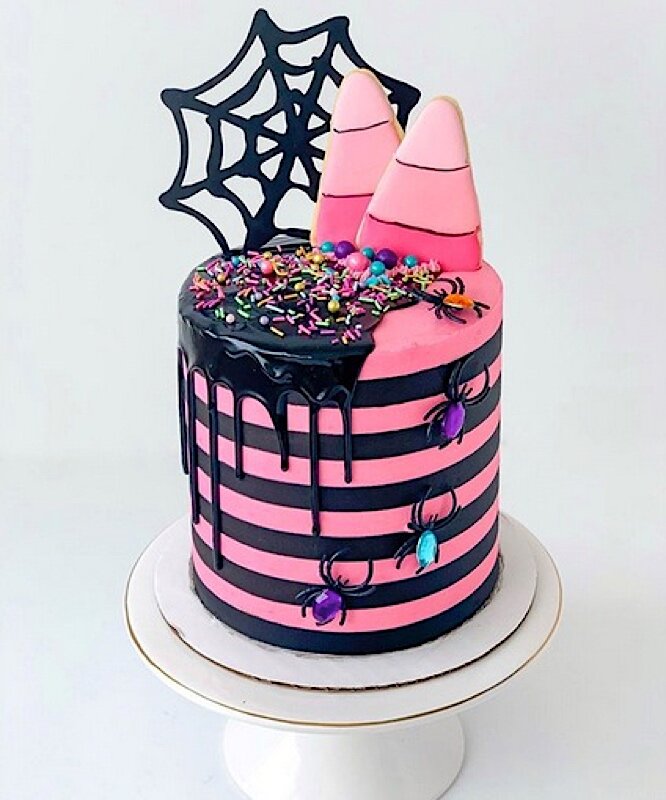 (Wonderfully Whitty Cakes, California)
I couldn't decide which of Whitney's cakes I liked best, so you get two:
(Wonderfully Whitty Cakes, California)

Ooooh. Those stripes are swoon-worthy.
Have you ever seen a little kid smile with a mouth full of Oreos?
This is kind of like that, only cuter:
(Backfeevi, Germany)

Hee!

I know I usually err on the adorable side of Halloween, so here's something more dark and dramatic: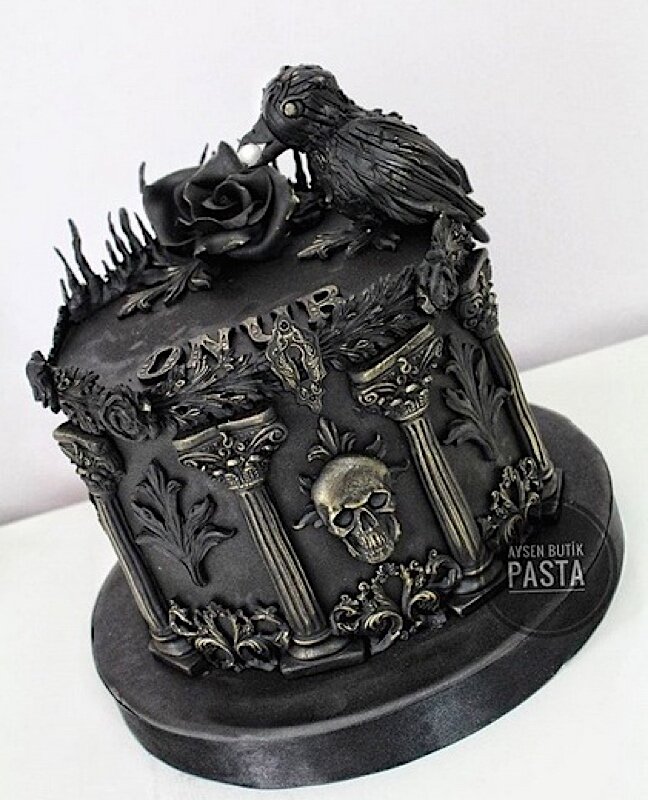 (AyşenButikPasta, Turkey)

This could almost be a wedding cake! And that dry-brushed gold detailing? Gorgeous.

Ahh, but now I bet you want to see an actual Halloween wedding cake.
So to quote the coffin lid as it slammed shut,

BAM: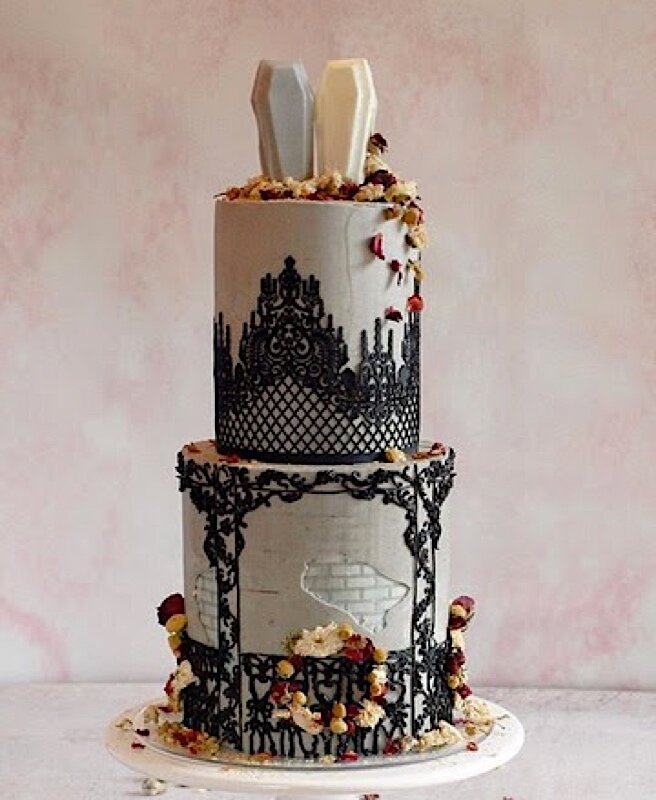 (MakeLuvBlog)

Isn't this stunning? The wrought iron gate trim, the autumn flowers, the chocolate casket toppers! I love the light gray icing, too; less dye AND you can see all the details better.


Veering right back into Cute with this magical lil guy:
Batty Potter. Ermergersh.
And of course we need more Pumpkin King and friends in here: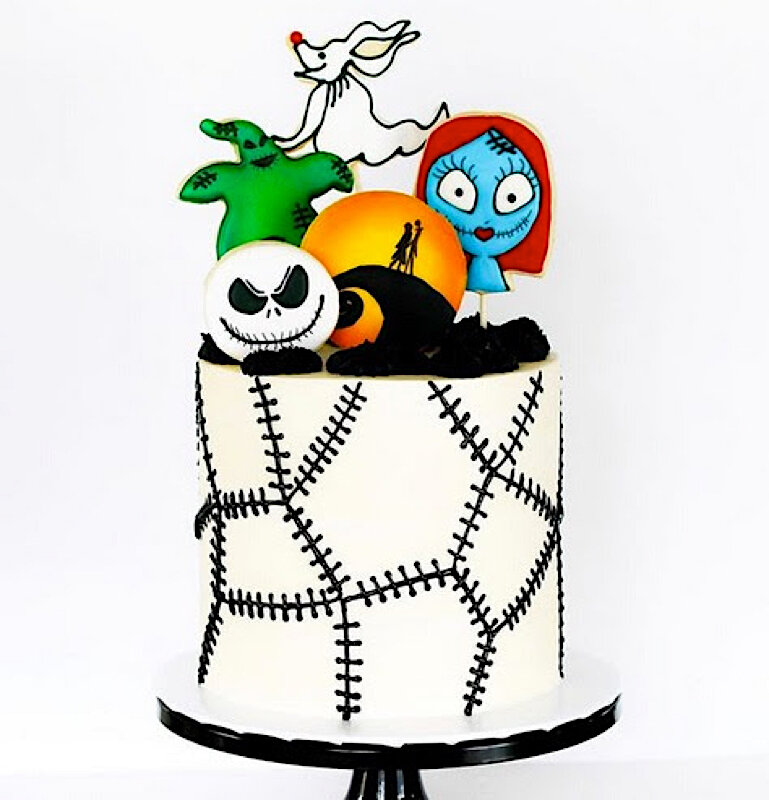 (Lovlie Cakes & Brookies Cookies Co.)

Digging the vintage illustration style on this one:
(Saucy Bakes, Canada & Arizona)

The bright green and red makes it pop, and then that bottom piped border made me do a double-take; it looks just like real lace! Whaaaaat.

And finally, even more cheery pastels, since I can't get enough this season: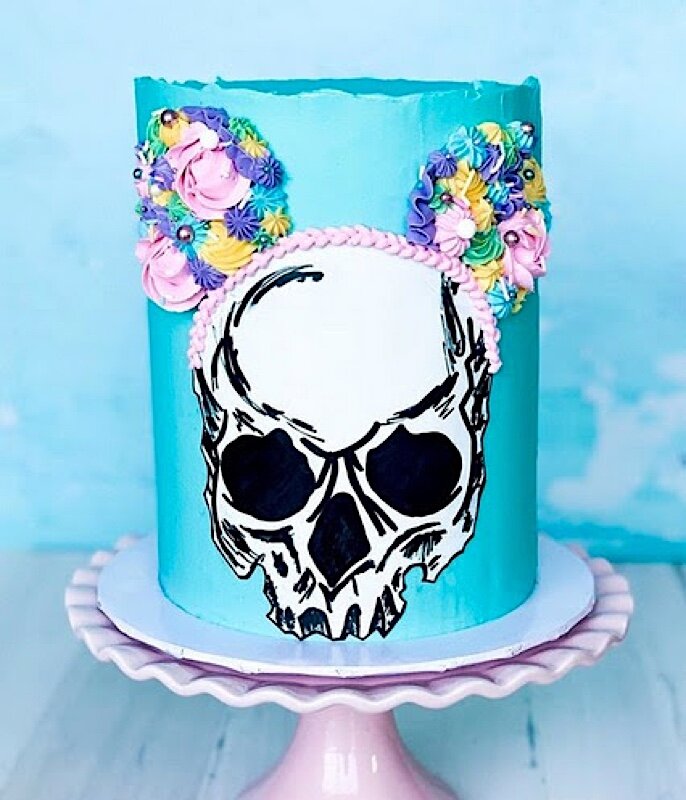 (Cake Happy, Virginia)
Is this not the happiest skull cake you've ever seen?? I guess Mickey ears really do make everything better. :D

I hope these made you a little happier, too, friends. Happy Sunday, and may your Halloween this year be extra extra Sweet.
*****
P.S. Speaking of happy skulls, I don't know who needs to hear this, but there is such a thing as rainbow skull spoons:
Stainless Steel Skull Spoons, set of 6
They also come in black or silver, for the more traditional/boring goths out there. :p
*****
And from my other blog, Epbot: